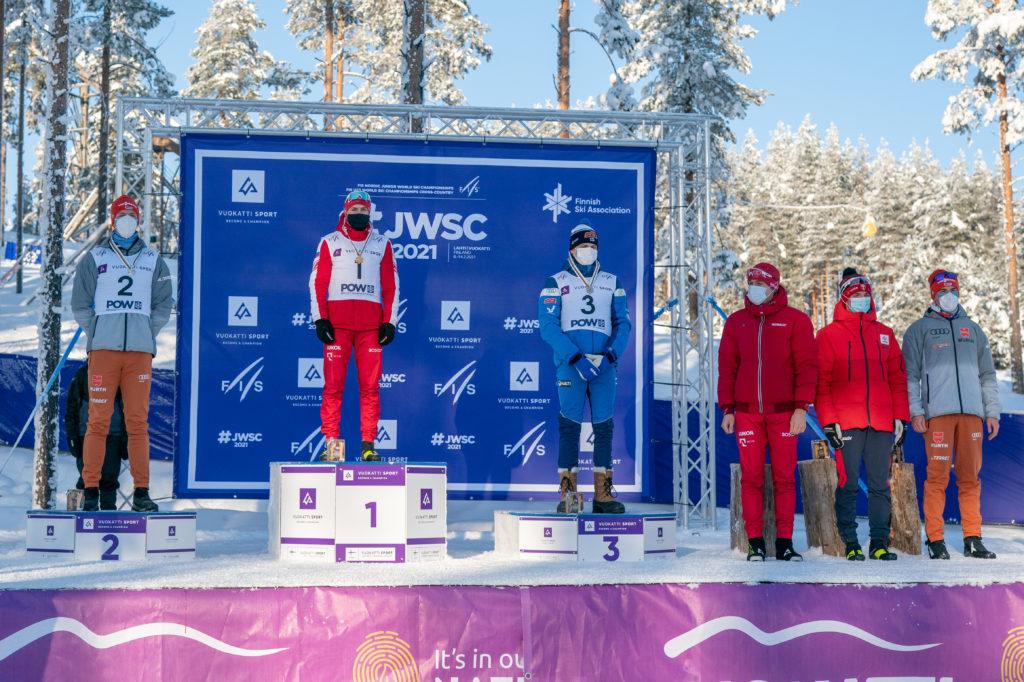 During the last day of the FIS Nordic Junior World Ski Championships, it was time for the U20 mass starts in classic style. If the courses in Vuokatti would not already be challenging enough, the slight snowfall during the night made sure that no medals would be won without an extra hard fight.
In the women's 15 km race, Magrethe Bergane from Norway took the lead early on and was able to ski to a clear victory and gold medal. Behind the winner, the rest of the medals were decided during the last hundreds of meters and the silver was won by Sweden's Lisa Eriksson followed by Germany's Helene Hoffman who took the bronze. Evgeniya Krupitskaya from Russia finished 4th, only 2,4 seconds from the bronze.
Three-time medalist from this year's JWSC Bergane was excited about the first gold medal: "I felt really strong today from the beginning and obviously I am really happy about the gold medal. I didn't have so much of a tactic for today but because I felt strong, I decided to go hard, and I am really happy it worked."
The silver medal winner Lisa Eriksson was also happy about the first individual medal: "I'm really happy about this silver. I was little bit nervous before the start since I started as bib 19 so quite in the middle of the group. But I managed to get silver medal from this race, and it is really big thing for me."
Same as for Eriksson, also the bronze medalist Hoffman took her first individual medal. "I'm really surprised about this bronze medal and this is a nice way to finish the World Championships. I'm really happy and excited to get a medal."
If the women's race was decided early on, in the men's 30 km race the fight for the gold medal lasted until the last kilometer. In the last uphill, Russian's Alexander Ivshin was able to make a gap to Jan-Friedrich Doerks from Germany and Alexander Ståhlberg from Finland, and that was enough to ensure the gold medal.
"The race was really hard, and I just tried to do best I could. I think the classic technique is quite different between Russian's and other Europeans and that is why I skied a lot in the front. We use longer kick and glide, so I was able to relax better in the front. I am really happy I was able to finish first", said Ivshin.
Jan-Friedrich Doerks was also happy to finish the competitions with a silver medal. "In the beginning of the race I wasn't so sure about my power today but then towards the end I just tried as hard as I could and I'm really happy about the result. I knew that this race would be my best chance to do good and especially because we were really close to a medal in yesterday's relay, this feels really good."
The bronze medalist, Finland's Alexander Ståhlberg, took already his third medal from the home World Championships. "It was a good, but tough day. I still managed to get a medal, so I am satisfied. I am also very happy overall about these Junior World Championships and to get three medals feels amazing. I have been in good shape, but still, this is a big surprise."